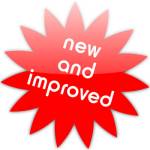 I thought it was time I modded my website so I've got the latest version of WordPress and added a few nice widgets and have been flat out like a lizard drinking adding content.
There's still a long way to go with the different mods etc but give me a chance and we'll be all up to date in no time.
One thing you will notice is there is no way to contact me via the website. It's not a mistake, it's very deliberate. This website is purely designed as a vehicle to sell my new and used pedals and mods on Trademe so I make no apologies for that.
So please bare with me while I update the rest of the new website.
I'm using WordPress which is an open source CMS website package that is easily styled to suit any needs and has a number of add-ons that make things like adding images, text, links, videos etc all easy to manage via a simple web-based interface. I also code with Dreamweaver and other HTML programs but I've found that these days I need to be able to do my updates online from any location and browser based website editing just works brilliantly for that.
As an aside it might be good to let you know that I have been developing and hosting websites since 1995 when I designed and built the first horse racing websites in New Zealand. I run a couple of servers in the USA (one hosts the websites and the other is a media streaming server) so if you have a website that you are currently hosting elsewhere it might be worth your while to see if I can help you save some money on your website costs.
Website packages start at $150 per year and include annual domain name renewal and management.
I have around 50 or so websites currently in my stable and have room for more.